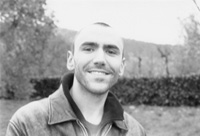 Bio

Daniele Tirinnanzi is the founder of DT Creations and lead sculptor and painter for Vincent Van Dyke Effects. He has over 15 years experience as a special effects make-up artist.

A native of Italy, Daniele studied at the Institute of Art in Florence, then attended Special Effects Makeup classes at the Los Angeles campus of the Makeup Designory in 1999. Completing his studies, Daniele collaborated for many years with Italian Magic Artists in Florence, Italy. During this time, he contributed practical FX, sculpting, mold making, painting, and animatronics to a number of music videos, TV commercials and theme park attractions. 

In 2010 he moved to the United States and began collaborating with some of L.A.'s top FX companies. His work was featured in a number of commercial, TV and Film productions.